Taxi Services in Haggerston Castle Holiday Park
[su_heading size="25″]Taxi Services in Haggerston Castle Holiday Park[/su_heading]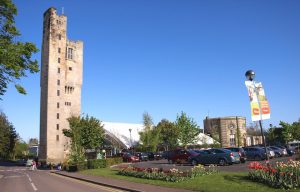 Woody's taxis provides Taxi Services in Haggerston Castle Holiday Park.  With a fleet of 4 seater, 6 seater and 8 seater and wheelchair accessible vehicles we can provide transport for any occasion.  Our base in Berwick upon Tweed gives us the perfect focus on taxi services in North Northumberland and the Anglo Scottish Borders.  Haggerston Castle Holiday Park is in our area and we are frequently picking up and dropping of there.  Our drivers are fully trained to help with luggage, pushchairs and wheelchairs giving you the peace of mind you will arrive at your destination safely.
Reliability and punctuality is in the forefront of our customer service priorities and with this in mind our dispatch system caters for every eventuality.  Once you book a taxi with Woody's Taxis our dispatcher will log your booking and you will be updated at every stage via SMS Text Message.  We will locate the nearest car and it will be automatically sent to your pickup point/location.  Even easier booking is available through our APP, available on the iTunes Store or Google Play (Android).   You can also book via our web booker by CLICKING HERE.
Woodys Taxi's has no limits on our destination and you can book a taxi to take you anywhere (24 hours notice is advised for longer journeys).  Our taxis are often seen in Haggerston Castle Holiday Park so please feel free to speak to one of our drivers who will advise you on your journey requirements.
[su_divider top="no" style="double"]
WAYS TO BOOK YOUR TAXI
Call Now on 01289 547009
via our Web Booker – CLICK HERE
Download our APP to match your phone/tablet below:
[su_row]
[su_column size="1/2″]

[/su_column]
[su_column size="1/2″]

[/su_column]
[/su_row][su_divider top="no" style="double"]
 berwick upon tweed taxi services – berwick taxi – newcastle airport taxi services – taxi in spittal – edinburgh aiport taxi services – berwick taxi – taxi in berwick upon tweed – school taxi services berwick – northumberland taxi services – edinburgh night out – coldstream taxi services – eyemouth taxi – burnmouth taxi -haggerston castle holiday park taxi – berwick holiday park taxi – holy island taxi services – lindisfarne taxi – berwick upon tweed train station pickup – berwick upon tweed railway station taxi – haggerston castle holiday park – weehchair taxi services in northumberland – glasgow airport taxi services – paxton house taxi – tweedmouth taxi services – east ord taxi – newcastle night out – taxi run – berwick night out – 6 seater taxis – wheelchair access taxi